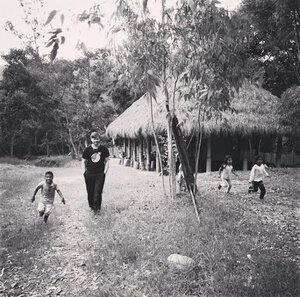 Junior Research Fellows, 2020-2022
"Peacebuilding and Placemaking: Collective Actions in Postconflict Colombia"
"Peacebuilding and Placemaking: Collective Actions in Postconflict Colombia" investigates the collective transformations of the built environment found in the peripheries of the urban landscapes of Colombia. A series of projects have been identified that highlight interesting assemblages of people, resources, institutions, materials and knowledge that illustrate an alternative way of producing space, making cities and placemaking for people whose lives have been impacted by conflict, displacement, and loss. In a context that is haunted by multiple forms of violence, community residents and social leaders collaborate with design and architecture 'colectivos' to invent new imaginaries that negate the oppressive nature of traditional urban planning initiatives. By reading these arrangements through the lens of non-representational theory, the evolving quotidian social practices are examined to understand the agency of these projects and how they reframe city life for the actors involved. This investigation is concerned with developing a framework to analyze the conditions that allow unique spaces not only to be imagined, but physically created. In tracing these narratives, this scholarship will situate neighborhood interventions within larger social movements in Latin America that have underscored engagements with urban communities including Popular Education, Participatory Action Research and the Right to the City. These and other discourses are used to contemplate and articulate the tactics and strategies employed in each project, how they take shape and how they are evidenced in practice. Ultimately, this research relies on a critical understanding of the potential of these initiatives of co-creation that, although fragile and contingent, enact possibilities for better urban futures in Colombia.