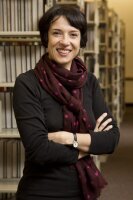 Senior Research Fellow, 2015-2017
Ugly Beasts, Talking Monkeys: Education and Contagion in Pre-Modern Europe
The inception of the plague pandemic in 1348 triggered an unprecedented interest in framing the distinction between human and nonhuman. Ugly Beasts, Talking Monkeys is a book-length project that explores the unstable boundaries between human and nonhuman animals in literary and scientific texts of the European Middle Ages and Early Modernity. Contagion and education are the two pressure points I use in my analysis: these texts represent animals either as ugly beasts that spread illnesses or as humanlike creatures who can teach lessons on vices and virtues. For the first time, I argue, or at least in a permanently influential way, these two forms of representation create a constant short circuit that still forces us today to ask what makes a human.