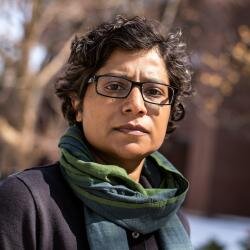 Junior Research Fellows, 2014-2016
Between National and Comparative: Unworlding Indian Cinema
My interest lies in developing a history and pedagogy of Indian cinema utilizing comparative methodology. My research in the next two years will be geared towards finding a common ground between differential categorization of world cinemas (using Indian cinema as a paradigm) on the one hand and the mapping of world cinema on the grid of global capitalism. Given that the history of world cinema--as an entire body of work of a composite of individual pieces--is only 120 years old, and that the production and distribution of cinema has been contingent upon a certain flow of capital and materials, it is possible to find a theoretical framework that can be used to gauge the socio-political context of all cinemas. Indian cinema is a useful paradigm because it provides the volume, history, and variations that such a project requires.