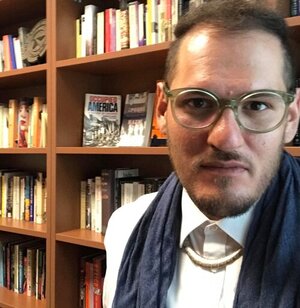 Junior Research Fellow, 2022-2024
"Queer in a Legal Sense: Brown Citizenship and Other Lawful Fictions"
Queer in a Legal Sense: Brown Citizenship and Other Lawful Fictions examines legal texts alongside literary works by queer Chicano writers of the late 20th and early 21st centuries that present more violent, often deadly, narratives of queer Chicanx and migrant citizenships. Studying literary and legal texts together, the project demonstrates how the violence perpetrated against queers, migrants, and queer migrants often fails to be indexed in institutional archives. Analyzing works that depict explicit encounters between these communities and the institutions or agents to whom enforcing international and intranational migration policy is relegated, the book analyzes the ways the immigration apparatus and the laws that shape its contours depend on experiential erasures to perpetuate fictions reflected in archival data on citizens and migrants. Queer Chicano authors like John Rechy, Arturo Islas, Michael Nava, Rigoberto González, and Jaime Cortez speak to the unrecorded aggressions of the state, insisting on a suspicion of state archives invested in institutionalizing fictions that justify the deployment of the state resources to reshape queer migrant narrative legibility. Consequently, the project mobilizes critical legal frameworks to propose that we treat legal texts as narratives, as lawful fictions even, that by design misconstrue queer and/or migrant communities as antithetical to a narrative of the nation upheld by the management and curation of the citizenry.