Image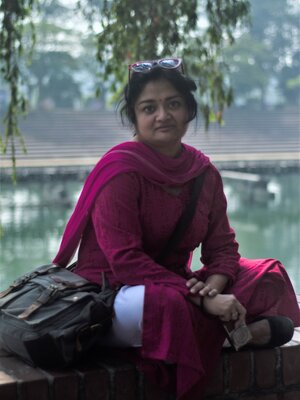 Dissertation: "An Architecture of the Land" – The National Assembly Building Complex in Bangladesh
Certified Winter 2019 
Nubras Samayeen is an architect, urban designer, and Ph.D. candidate in the joint program of Landscape/Architecture and Heritage at the University of Illinois, Urbana-Champaign. Her research on Louis Kahn probes Western colonialism and modernism's instrumentality in homogenizing history, tradition, and culture across the globe. She explores the relationship between architecture and landscape and investigates the construction of national identity through built forms. After completing a bachelor's degree in Architecture, she completed dual master's degrees in Architecture (M. Arch.) and Urban Design (M.U.D) at the University of Michigan, Ann Arbor with Distinction. With other merit scholarships, she received the prestigious Charles Moore fellowship during her studies there. At Illinois received the Dumbarton Oaks Summer Fellowship, Harvard University (2018); Kennedy and Feil Travel Awards (UIUC-2017); and AAUW (2018). Her design career began at in various private institutions in New York and Washington DC. She was an assistant professor at Howard University, DC and at the University of Asia Pacific in Dhaka, Bangladesh. In addition to her publications, she received numerous national-international design-awards including runners-up in Future Legacies Design Competition (2017), Canada and first prize in Designing Conflict (2010) in Zurich, Switzerland. Through her research, she aims to create a nexus between design and history/theory to catalyze a transboundary approach to design education that affects the built-environment.
Her dissertation examines the National Assembly Complex in Dhaka, Bangladesh, built by modernist, American architect Louis Kahn, as a case study to explore the role of the designed environment in the construction of a national identity for a newly formed nation in the post-colonial (after 1947) and the post-independence eras (1971 onward). In mid-twentieth century, capital cities were built with modern architectural vocabularies, as their bid to participate in globalization. Examples of such modern capitals are Ankara (1928) in Turkey, Brasilia (1956) in Brazil, Chandigarh (1952) in India, and the capitol building in Islamabad (1963) in post-independence Pakistan. Kahn's Complex has attracted scholarly attention as a work of singular architectural design.
[1] Yet his landscape design has been virtually ignored. Two exceptions are essays by Florian Sauter and Kazi Ashraf that depart from form-driven architectural analysis to examine Kahn's approach to landscape and nature.[2] With landscape similarly as her own departure point,  she explores the ways that Kahn thought about landscape architecture and space more generally in the Capitol Complex. She also investigates the role this designed landscape has come to play in constructing popular culture in Dhaka over the past 55 years. By placing the design ideas of Kahn and state leaders in dialogue with the events that have granted the design a unique place in the national imagination, her dissertation explores two questions: 1) Why, at a critical point in Bangladesh's history, did the newly emerging democratic state choose Kahn, an American architect, to design the Complex that would represent the new nation's identity? 2) How has the paradoxical  merger of a Western and modern receptivity with a traditional Bengali sensibility operated over time as the Complex materialized as a national symbol?[3] This research probes Kahn's role in the making of this symbol, and the dynamics between the global and those worlds that were seen as the "Other."[4] Hence, this research examines the issues of how global political power influenced local ethos (the world writ small: Bangladesh) and how it gained acceptance in the larger cultural sphere (the world writ large). Holistically her study examines Western colonialism and modernism's instrumentality in homogenizing tradition and culture across the globe through Kahn's work in Bangladesh.
---
[1] For scholarship on Kahn's architectural works, see Vincent Scully, Jr., Louis I. Kahn (New York: George Braziller, 1962); David B. Brownlee and David G. De Long, Louis I. Kahn: In the Realm of Architecture (New York: Universe, 1997).
[2] Kazi Khaleed Ashraf, "Taking Place: Landscape in the Architecture of Louis Kahn," Journal of Architectural Education 61, no. 2 (2007), 48–58; Florian Sauter, "Mettre la nature en oeuvre," in Louis Kahn: The Power of Architecture, ed. Mateo Kries, Jochen Eisenbrand, and Stanislaus von Moos (Weil am Rhein: Vitra Design Museum, 2012), 181–201.
[3] The people in Bengal speak a common language, Bangla/Bengali, formed from Sanskrit roots. The Bengali-speaking eastern region of India and Bangladesh together is called Bengal. Bengali therefore also means the people who speak Bangla. Bengali is thus used both as noun and adjective. Prior to Bengal's division in 1905, it was one region of the Indian subcontinent sharing a common language and culture. After this division, East Bengal became Bangladesh and part of the region was called West Bengal, which today falls in India.
[4] The idea of "Otherness" is central to sociological analyses of how majority and minority identities are constructed. This is a relational word mostly defined by the one in power. Among the scholars who have written about the Other, British sociologist Stuart Hall (1932–2014) is prominent. The Other often represents the dichotomy of East and West, First World and Third World, the North and the (underdeveloped) Global South.